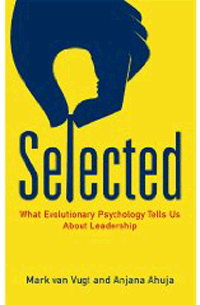 Van Vugt, M., Ahuja, A. (2010). Selected: Why Some People Lead, Why Others Follow and Why It Matters; What Evolutionary Psychology Tells Us About Leadership
and What Makes an Outstanding Leader. Profile: London.
Read more or pre-order this book at Amazon.co.uk
The book came out end of August 2010. It has received quite a bit of media attention so far and it appears on the UK Business bestsellers list.
Portions of the book have been discussed in the journals Nature and the New Scientist and the newspapers Daily Telegraph and Sunday Times. Here is the link to a lecture that I gave about the book for the Royal Society of Arts in London on 2 September 2010.