The purpose of this website is to provide information and disseminate knowledge about my research, teaching, and consultancy in organizational psychology and evolutionary psychology.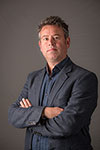 My particular expertise lies in the field of evolutionary approaches to social and organizational behavior. I am interested in how evolutionary theory can be applied to understand group dynamics, organziational behavior, leadership, status, power, conflict and cooperation, and intergroup relations. In our lab at the Vrije Universiteit (VU) we are using a range of methodologies from experimental psychology, social neuroscience, and behavioral economics to test hypotheses about human group behavior and its evolutionary roots.
Here is some information about the VU LeadershipLab that I co-direct. The LeadershipLab was recently established as a tool for multi-disciplinary research, training and development for Leaders and Boardrooms of public and private organizations about matters of leadership and governance. Please contact me for more information about this unique facility.
I have also a keen interest in applications of evolutionary biology & psychology to domains such as business, leadership and management, environmental sustainability, politics, peace and warfare, sex differences, economics and finance, health and poverty, charity and philanthropy.

If you are interested in more please read my blogposts in Psychology Today and my science columns in Trouw (in Dutch).
Copies of articles, book chapters and lecture slides are available as PDFs on my website, see publications.
Here is a an introductory chapter I wrote with a colleague on Evolutionary Perspectives on Group Processes if you are interested in this emerging field
Mark Van Vugt, Professor of Psychology*
m.van.vugt(at)vu.nl
Follow me on Twitter: @markvanvugt1
Affiliations:
*Social and Organizational Psychology Group, Vrije Universiteit Amsterdam,
Transitorium. room 1 B-29, Van der Boechorststraat 1, 1081 BT Amsterdam, the Netherlands.
*Department of Politics, University of Oxford, UK